What Hope Offers
Perfect Touch Makeup offers facials, chemical peels and more!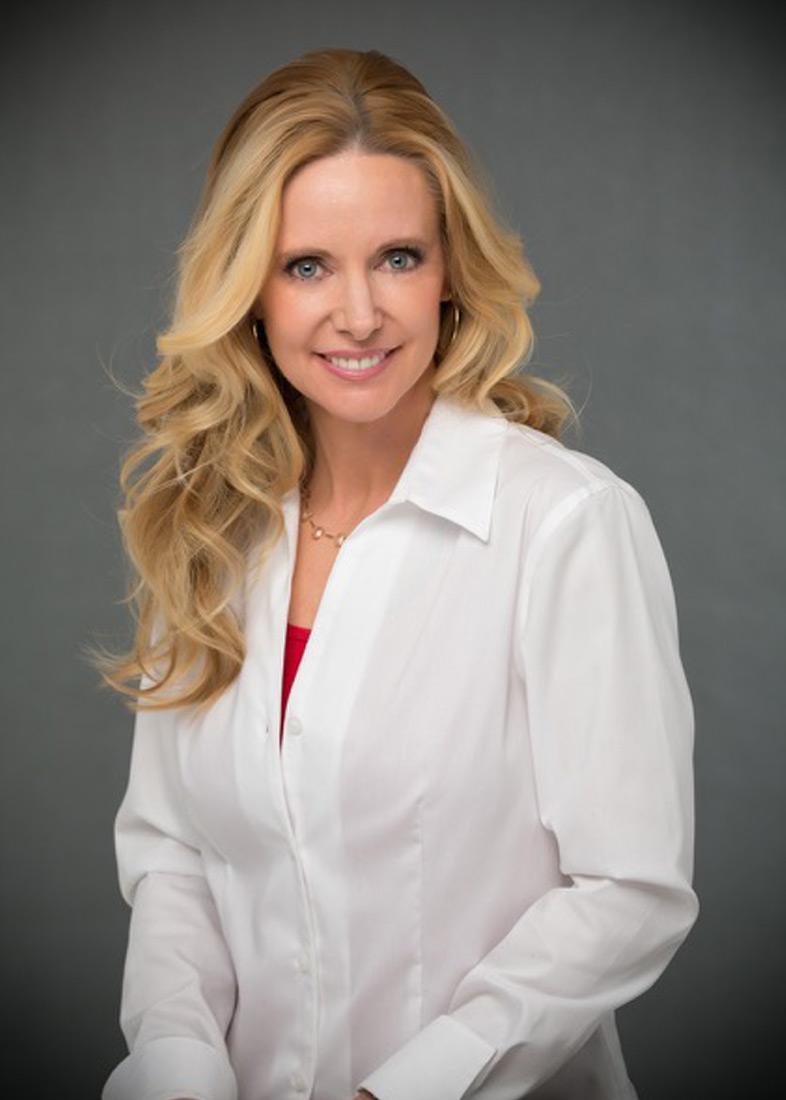 Hope Ready is a certified laser technician, licensed aesthetician, professional makeup artist, and certified yoga instructor. She has been working in the fields of aesthetics and beauty for over 28 years. Her passion and philosophy is to combine today's modern aesthetic treatments to better help you obtain a more radiant, confident and beautiful you.
Hope received her certification for laser treatment from the prestigious ClearSkin Institute, one of the premiere training programs in the country. She is trained in skin care, waxing, corrective facials, microdermabrasion, chemical peels, dermaplaning and the use of lasers. She truly enjoys sharing her vast experience of advanced makeup application, techniques, color and correction with everyone.
Her special talent and passion is corrective skin care for those suffering from the affects of acne. Acne can be a debilitating physical symptom that effects ones self esteem, confidence and can even lead to permanent scarring. Hope is knowledgeable, compassionate and patient. She will guide and educate you treat this condition and reverse the damage it causes, both physically and mentally.
Hope truly believes in encompassing all aspects of the "whole self" in addressing your personal beauty and esthetic needs.
CONSULTATIONS ARE ALWAYS COMPLIMENTARY
During your consultation we address your personal needs for your skin and body.
Bellezza Laser Aesthetics offers the finest in skin care products, anti-aging laser therapy, corrective skin care, scar revision, acne scarring revision, body contouring with Coolsculpt, laser hair removal, CO2 laser, IPL pigment reduction, micro needling, chemical peels, tattoo removal, wrinkle reduction and laser skin resurfacing.
FACIALS
Facials are a relaxing and revitalizing treatment for your skin and your inner self. Whether it be a hydrating, anti-aging or acne treatment, facials are a crucial part of good skin health and promote a vibrant appearance.
CHEMICAL PEELS
Young, healthy skin exfoliates itself every 28-30 days. As we age, this rate of exfoliation slows to every 40-60 days. The proper chemical peel helps to expedite this exfoliation process by removing surface skin cells, creating an improvement in skin tone and texture.
ACNE FACIAL $125
90 MIN
Cleanser for Acne
Microdermabrasion
Apply Steam
Extractions
Lightwave Therapy
Acne Mask
Moisturizer for Acneic Skin
Sunscreen
An amazing treatment for those suffering from congested or acne prone skin. All products are specifically formulated to treat and lessen the effects of breakouts and scarring due to clogged and congested pores. Extractions are done gently by hand. Most effective if done every 4-6 weeks to promote improvement in the skins health and appearance as well as reduce the scarring often caused by acne.
DELUXE FACIAL $125
60-75 MIN
Cleanser for skin type
Microdermabrasion
Steam
Extractions
Refresh Lactic Peel Solution (this is a no peel lactic acid solution to soften and increase circulation in the skin for a beautiful anti-aging treatment)
Re-Cleanse
Firming Mask
Moisturizer for your skin type
Sunscreen
A rejuvenating Microdermabrasion facial in one amazing experience for the skin. This deeply exfoliating treatment promotes a brighter, smoother texture as it addresses fine lines, pigment and stimulates circulation for a glowing result. Especially effective for aging, dull or congested and acne prone skin. Recommended every 8-12 weeks for optimum anti-aging, skin repair and skin health.
BASIC MICRODERMABRASION $85
30-45 MIN
Cleanser for Normal to Combination Skin
Microdermabrasion
Apply Steam
Light extractions
Firming Mask
Moisturizer for your skin type
Sunscreen
his basic treatment cleanses, exfoliates and hydrates the skin for a fresh glowing appearance. Relaxing and nourishing, completely customized to meet your personal skin type. Recommended every 8-12 weeks to maintain healthy, hydrated skin.
DEMAPLANING $85
60-75 MIN
Cleanser for skin type
Dermaplane
Apply Lactic solution
Re-Cleanse
Steam
Firming Mask
Apply Moisturizer for skin type
Sunscreen
Dermaplaning is a very simple physical method of exfoliation done with a fine blade held at a 45 degree angle and gently shaving the skin which helps to remove dead skin cells and facial hair(peach fuzz). Giving your face a brighter, smoother complexion. You may ask "what about the old wives' tale that hair grows back thicker after you shave? Shaving does nothing to increase the density or quality of the hair which by nature are soft and fine. Shaving them won't make them thicker or courser. Ideal for those suffering from Rosacea that still wish to exfoliate and care for their skin with an optimal treatment. Can be performed every 6-8 weeks to remove unwanted facial hair and improve overall health and condition of skin.
CHEMICAL PEELS $200-$400
30 MIN 
At Bellezza we use only the best possible peels for optimum results.
Vitality Institute or the VI Peel system are predictable and highly effective chemical peels to aid in reducing pigment associated with Melasma and sun damage or aging, lifeless skin. Peels are done in a series of 3 for optimum results.
Depending upon your skin type and desired results peels are typically done in a series to reach the deeper layers of the skin to promote a reduction in pigment, acne scarring and anti-aging. Peels are performed at 4 week intervals.
MICRODERMABRASION
Microdermabrasion helps repair skin from damage caused by the sun, scars, acne, and aging. It is a technique that removes the topmost layer of skin, leaving it more supple and vibrant. This is done by gently polishing the skin with natural diamond chips bonded to the tip of the wand, while vacuuming the exfoliated skin cells away in a controlled manner. Removing this outer layer leaves a smoother texture and promotes the growth of healthy new skin.Your skin will feel and look smoother, younger, and refreshed after just one treatment.
LASER HAIR REMOVAL
Are you are sick and tired of shaving, waxing or plucking unwanted hair? Now is the time to consider laser hair removal as advanced technology has made this procedure simple, effective and affordable.
Men and women desire the removal of unwanted hair for various reasons. Most are simply tired of shaving underarm, leg and bikini areas. Some wish to be rid of pesky facial hair or general body hair. Whatever the reason, it is now available for just about anyone to safely and quickly remove unwanted hair. Using the Soprano Ice from Alma Lasers with it's "in-motion" hand pieces provides for quick and virtually pain-free hair removal treatment. A significant reduction in hair growth occurs after the first few treatments, but 4-8 treatments are usually recommended to provide the most complete hair removal possible.
LASER REJUVENATION
Facial wrinkles can now be treated non-ablatively, contributing to a more youthful appearance. Using relatively low-energy, short-pulse broadband light, imperfections such as erythema of rosacea, superficial telangiectasia, dyschromia, age spots and other discolored signs of photoaging can be gently heated and eliminated, replaced by newer, younger looking skin. Patients prefer AFT treatments from Alma Lasers' Harmony®XL (part of Alma's consumer-friendly Laser360 procedures) because each treatment is gentle with no downtime. In fact, laser skin treatments for wrinkles and other signs of aging can be done during a quick one hour appointment and no one will notice any sign of treatment, just a gradual improvement in the skin's appearance.
INTENSE PULSED LIGHT
For those patients with medium to deep wrinkling who wish to avoid surgical skin tightening procedures but desire a youthful, refreshed skin tone, "fractional" ablative skin resurfacing is the ideal choice. Years ago, ablative skin resurfacing fell out of favor due to the treatment's long downtimes and risk of complications. Now with the fractional technology, you again see the fabulous results but with a considerable reduction in downtime. Although having surgery can help to correct the positioning of aging tissue, it cannot restore the skin's once youthful glow. With the fractionated procedures, laser light passes through the patented Pixel® micro optics lens array to penetrate the skin with tiny thermal channels. This creates an ablative and thermal effect in only these channels — a micro-injury that leads to collagen growth and skin tightening — without disturbing the surrounding tissue. The tissue surrounding the micro-injury sites (about 15-20 percent of the treatment area) starts the process of healing. The intact, undamaged skin around the treatment site is what promotes quicker healing for a faster recovery.
ANTI-AGING AND CORRECTIVE LASER TREATMENTS
Lasers can be used to treat the signs of aging, revise acne scarring and remove sun damage and pigment for younger, healthy and radiant looking skin.
COOL SCULPT
Unlike a lot of other procedures, CoolSculpting takes very little time and is pretty simple to fit into your daily life. After your CoolSculpting treatment you can typically get right back to your busy day. Each treatment lasts one hour – the same time you might spend at the gym. So you can easily fit your appointment into a lunch break.
Developed by Harvard scientists, this unique, FDA-cleared, patented procedure uses a targeted cooling process that kills the fat cells underneath the skin, literally freezing them to the point of elimination. Only fat cells are frozen. Your healthy skin cells remain, well, healthy. No knives. No suction hoses. No needles. No scars. Once crystallized, the fat cells die and are naturally eliminated from your body. In a few months, boom: say hello to a new you.